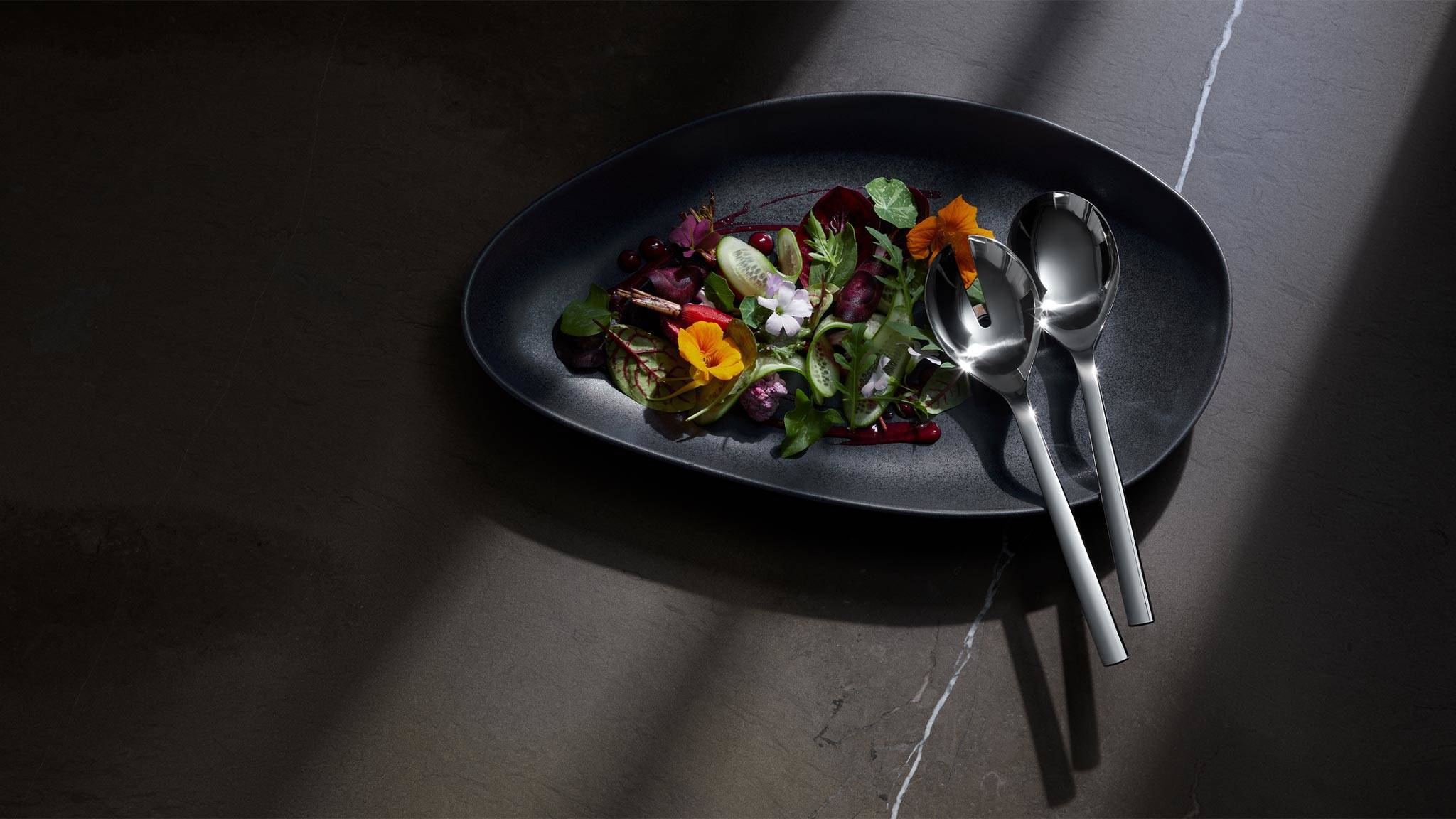 Serving pieces from WMF: the right cutlery for every dish
WMF serving pieces: serve food in style
Serving pieces belong on every table. Many dishes require special spoons or ladles so that they can be served elegantly. Our product range has the serving cutlery to meet your every need.
From lasagne to sauce: serving pieces for every meal
Have you ever tried dishing out pasta with a ladle or getting lasagne onto a plate with a spoon? Usually, even in the best-case scenario, the results aren't pretty! That's why our product range includes a wide variety of serving pieces perfectly suited to special dishes.
The A-Z of serving
People who like even their regular meals to be stylish never serve their dishes in pots, but bring them to the table in matching serving bowls and on serving plates. For this you need the right serving pieces, which are not only visually impressive. They are also perfectly designed for their respective purpose. That applies to lasagne servers - which can also be used as a cake server - as much as to pasta tongs and sauce ladles. To serve meat such as sliced roasts, cutlets or steaks, we strongly recommend using our serving forks, which come as part of a practical set. These two-pronged forks can also be used to serve cheese or fish. Practical as they are, they also make useful kitchen tools for filleting meat in the kitchen prior to serving.
Serving pieces to match your cutlery collection
WMF serving cutlery matches our collections, the designs of which range from simple to opulent. As with our cutlery sets, we use Cromargan®, Cromargan protect® or silver as stable raw materials. All items are dishwasher safe and come with either a polished or a matt surface. If you prefer a purer design for your cutlery, we recommend the polished Nuova collection. In addition to table cutlery and serving pieces, these and many of our other collections can be complemented with espresso spoons, latte macchiato spoons and cake forks. Fruit knives and sets of serving cutlery are also available in matching designs. As with all our collections, we place great store by functionality, timelessly beautiful design and durability, with products that can cope with regular use and being cleaned in the dishwasher without being damaged. Thanks to their high-quality materials, the entire WMF cutlery range is acid-resistant and naturally sturdy.